As one of our previous papers, the Progressive Finance function, explains, it is imperative to be able to, 'do the basics right and efficiently all of the time to enable a focus on driving the strategic growth agenda.  This means constantly looking at ways to evolve and do so in a pragmatic way that keeps a clear stewardship over core responsibilities'.
To support the organisation in achieving its strategic objectives and ensuring it fulfils its aim of delivering focused, short, discreet projects that deliver immediate benefits it is key to have strong governance over the change and transformation agenda.  This is where an Enterprise Portfolio Management Office (EPMO) will be of benefit, to improve prioritisation of the investment in change.
All organisations are at different levels of programme and project delivery maturity, and an initial analysis of the potential benefits of such a function should be undertaken so that it does not become an added layer of administration and red tape.  If such a function already exists, it is necessary to assess its performance in fulfilling the goals for which it was set up initially.
One of the means of optimising the effectiveness of the EPMO is to ensure that its implementation is supported by Change Management through the involvement of the people and the rethinking of the organisational design.  This will be the angle which will be explored in this paper.
Progressive EPMO – Key Objectives and benefits
An EPMO can be a strategic function which can sit above all other divisional, programme or project PMOs.  It can be leveraged to coordinate programme and project management resources as well as a central pool of PMO analysts. In that scenario, the EPMO can have resources based on shore or offshore which will be engaged according to demand raised by other functions.   Another, scenario is for the EPMO to focus on being a centre of excellence for best practises.  In both situations, the function can act as an internal consulting arm, providing resources and /or advice and support to business functions.
Key objectives of an EPMO are:
Provide holistic management and prioritisation of multiple Programme or Project offices, and/or of individual programmes and projects, by aligning portfolio of programmes and projects strategically within the organisation – at corporate or departmental levels
Improve collaboration across the organisation via knowledge sharing and coaching
Provide more informed resource allocation by optimising demand management and tracking
Lead to the improved competitiveness of the organisation in a fast changing business and economic environment
Increase control, lower cost and speed of delivery of change projects for greater benefits realisation
Some key potential benefits of an EPMO are:
Only projects deemed to align with strategic objectives will progress – the prioritisation exercise would however distinguish between the business as usual (BAU)and the change initiatives (with BAU including smaller projects required to run the business).
A standardised approach across programmes and projects will allow more accurate progress, benefits realisation, quality, and financial tracking
Resources utilisation and management can be optimised via centralised processes and tools. As mentioned above this could facilitate the allocation of onshore or offshore, internal or external staff for change programmes across business functions
A review of the organisation's potential benefit from an EPMO should consider its existing maturity, its aspirational levels, and what set of projects and initiatives will deliver the changes to move the organisation to the aspirational ambitions.   The more mature the programme and project management capability the more benefits will be leveraged from the EPMO, which in turn can also help it further scale up the maturity ladder.
When an EPMO is already set up but is not achieving the above objectives, then a reassessment can be made to ensure that key success factors are being addressed, in particular around People and Structure as part of the management of change.  The EPMO is likely to be of increased benefit once actions have been implemented.  A third party with an objective perspective could rapidly help to mend potential communication, buy in and strategic alignment issues.
Change Management – key to an optimal EPMO set up
Change management is critical to setting up an EPMO effectively in order to leverage all the expected benefits as it drives the involvement of not only Technology, Data, and Processes, but also the People and the Organisation design.  Involving the people and taking into account the organisation design will ensure that the change sticks:  that all impacted are fully aware of it, buy into it, are engaged in the process, and commit to its expected outcomes.
If the People aspect of change is not managed this may lead to consequences such as:
Resistance to change (active or passive)
Reduced productivity and / or increased turn over
Reversion to old habits
In the worst case scenario the change is cancelled
Many methodologies have been developed in order to support organisations in implementing change and ensuring that it is embedded.  One of these is Dr J.P. Kotter's '8 Step process for Leading Change'.  These have been refreshed to now incorporate the constraints of a constantly changing world.
The new approach, '8 Step Process to Accelerate Change', confirms our view that organisations need to be increasingly dynamic and adaptive.  EPMO functions should constantly be reinventing themselves taking the people and the organisation in the change journey.
This agile perspective can be illustrated as per diagram below.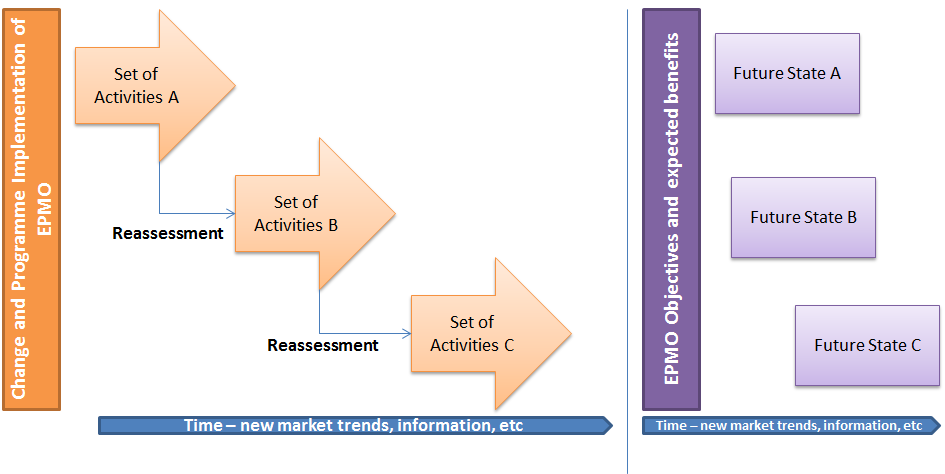 There is a constant need to reassess the activities leading to the establishment of the desired future state, as that expected end may itself be changing.  The project or programme implementation activities, such as planning, design, development, and implementation, run concurrently with change management steps, such as change assessments, stakeholder identification and management, communications, and coaching/training.
For the EPMO this means regularly reviewing alignment to its key success factors.
Key success factors of an effective and progressive EPMO
Some of these key success factors are in relation to:
People, teams and culture – open communication, collaboration (taking all on the journey, engagement), effective ownership of resource management
Leadership – champion the vision in alignment with strategy, enablement of a culture for success, hold people accountable
Customer focus – stakeholders' interest addressed, improved delivery of programmes and projects (on time, on budget, with high quality)
Continuous improvement – leveraging best practises and lessons learnt, light and flexible processes
Performance measurement – mechanism for continuous feedback loop to support ongoing process improvement
The important thing is to 'keep the eyes on the ball', not lose focus, and get everyone on the journey.
In conclusion, one needs to remember that the ultimate goal of an EPMO is to help improve the ability of an organisation to change and transform to deliver improved performance and results.  Its likelihood of success is determined greatly by leadership buy in as well as the engagement of staff and external resources involved, and the way the structure is organised.
In a global and fast moving world, it is increasingly critical to innovate and to remain flexible.  The EPMO function should be the central coordinating office which ensures that all programmes and projects land safely, at the right time, and without clash.